Panoramic Adaptor Tap Board.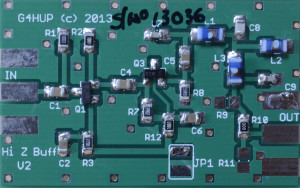 copyright G4HUP of hupRF
I went to this site last night http://huprf.com/huprf/pat-board/ for some much deserved retail therapy.. This circuit, allows the IF of a rig to be tapped off at high impedance, and brought out to an external SDR, to give a panoramic display. So as I gave up smoking again (5 weeks) yay...... I thought this little project would take my mind off things for a while.... Many thanks to David (G4HUP) for the information on this great piece of kit... I cant wait to get started....